This site is built and maintained by Piet while Marijke sometimes looks over my shoulder either giving unsolicited or asked for advice, mainly related to the aesthetics and look and feel.

The banner, or header, of a web site or home page is often thematic. In case of this web site it is really difficult to identify a theme. The one chosen, at least for now, has to do with our traveling around the globe.
On December 31th 1989 we where at the top of the Bromo volcano (the one with the "flat" top) on the Indonesian island of Java. From there we could also see a mountain known as, Sumeru (Mountain number one) the highest on the island of Java. We climbed during the dark and awaited dawn.
At breaking of dawn we really felt overwhelmed by this nature event. The rapid changes of light in combination with the rapid changes of the cloud-formations made us feel part of nature and at the same time feel very small. It felt like being one with nature on top of the world. We have tried to catch the beauty of this experience in photo's.
It is a very small part of one of these photo's that we use as our banner (duplicated and mirrored to get the required format), not only because it is the top page of our web site and the top of our home page but also as an attempt to share some of our experience with you. These floating mountain-tops, so it appears, can be inspiring for contemplation.

The photo below was taken only minutes later and yet observe the changing colors and cloud forms.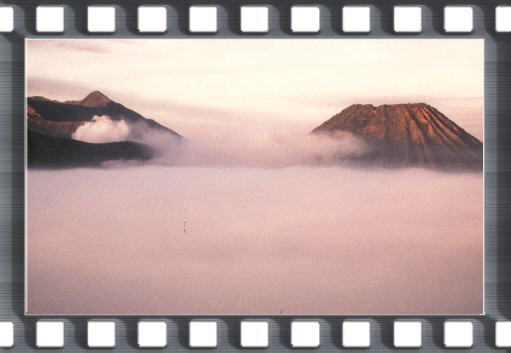 For a change history of this site see: History of changes




Dit is het overzicht: Link to Marijke60.zip


Dit zijn de foto's voor Jan.Link to Marijke60_Jan.zip